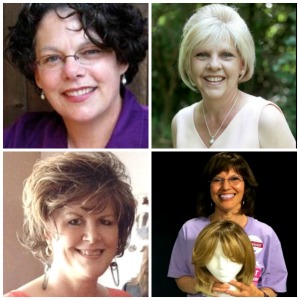 My Heroes
Heidi's Heroes are those who inspire and motivate me. They have or are fighting cancer with grace and courage. They work to make the world a better place with every ounce of their being.
Alison Gliever Martinsen
Alison was my first Heidi's Hero. She was, yes I said was because she lost her battle with cancer September 9, 2014. Alison was an incredible wife to Jeff, mother to her two daughters Ashley and Lulu and an incredible friend. She had a way of making everyone feel special. I met Alison when she was first diagnosed with breast cancer. Our friendship grew. We wore pink gloves and danced in Medline Industries' 1st Pink Glove Dance Survivor video while Alison was in the middle of treatment. After Alison completed treatment, we shared some special times including the marriage of her daughter Ashley to her incredible husband Kyle, and it was Alison who got me to go to see Tony Robbins at a live 4 day event in San Jose where we walked on FIRE. Alison co-hosted my annual fundraiser and she always supported all of my fundraising efforts. Her loss is deeply felt by all who knew her. Her spirit lives on in her daughters and her twin granddaughters who were born in January 2015. You will always have a special place in my heart Alison. You fought cancer with courage and grace.
Marie Eversole
Sweet little Marie lives in Brea Kentucky. She has been the Foster Mother of the Year and countless little ones have called her Momma. Marie and I met just after her first battle with breast cancer as she was heading into her second out of 3 battles with this ugly disease. Marie is one of the sweetest kindest little southern ladies you would ever meet. I was blessed to meet Marie in person in July 2013 during her trip out to California! When the going got tough during her surgery and chemo I promised her that when she felt better we would sit in my back yard and drink a glass of wine…and we did. Who knew that later that year cancer would return. Marie is one of the strongest and the bravest women I've ever met. She faces each new battle with courage and faith. March 23, 2015 Marie shared with me that for the 3rd time she is cancer free! Marie is a blessing to her friends, her husband Larry, daughters Kayla and Courtney and her cherubic grandson Carter. Long life my friend.
Donna Spagna
Donna is a quiet unassuming gracious lady that is an incredible volunteer for multiple cancer organizations. Donna is committed to working to empower women who have lost their hair in treatment for cancer with information and a wig at no charge through – 1 at the American Cancer Society, 1 at Stanford Medical Center and 1 at CancerCAREpoint – with hundreds of wigs that she expertly fit's on women who have lost their hair due to cancer treatment. Donna and I met while serving on a committee at the American Cancer Society. I immediately took a shine to her. Donna's cancer story touched my heart, at the age of 51 her mother was diagnosed with breast cancer and passed in less than a year. At the age of 51 Donna was at a routine doctor's visit when her doctor felt a suspicious lump in Donna's breast. Same age, same diagnosis yet her cancer journey was very different from that of her mother. Donna is living life to the fullest with her wonderful husband Fulvio. Donna is receiving the Crystal Bowl award for her volunteer work at Cancer CAREpoint April 2015 at the Junior League of San Jose Volunteer Recognition Luncheon. Donna is the finest volunteer it has ever been my pleasure to know.
Natalie McQueen
Natalie and I met at a luncheon where the guest speaker was the founder of the Bonnie J. Addario Lung Cancer Foundation, Bonnie Addario. We sat next to each other and I knew I liked her when Natalie pointed out that the luncheon's caterer must have worked for the Airlines because they served lunch without providing any knives. A year later I received an e-mail from Natalie in her role as Cancer Center Community Outreach Coordinator for El Camino Hospital, the hospital that saved my life, she was looking for a keynote speaker for their National Cancer Survivor Day event and she had been given my name. This was going to be my first of many motivational keynote speeches and it all began thanks to Natalie. It was working on this event and then several others that I developed an even stronger admiration for Natalie. She is the perfect mix of humor and compassion. When you need support, she's there. When you need to smile, again, she's there! If you'd like to see Natalie in action please watch her video from a speech she gave for the American Cancer Society! Here's the link: https://www.youtube.com/watch?v=tKav0_6RMYA Natalie is a rare find, she is one of those special ladies who is perfectly suited for the role she's in. Natalie, the world is a better place thanks to you!
Tania Hanks
Tania was my first friend when we moved to California in 1988. Our second floor apartments were across from each other and Tania and her husband Robert welcomed us and we became fast friends. Tania, being British, always made the perfect cup of tea. We shared many fun times together. We both moved from our apartments in Sunnyvale to 1st homes not far from each other in Milpitas. Tania and Robert had a son, Matthew and a daughter Lexi. They opened a Travel business and moved to Pleasanton. Sadly, just a few years ago Tania lost her husband Robert to cancer. It's heart breaking to loose your life's partner. Tania became an avid supporter of my cancer fundraisers. In the fall I received a call from Tania's daughter Lexi, who was pregnant with Tania's 1st grand baby, she shared with me that Tania had been diagnosed with cancer and was starting treatment immediately. Tania has always shown great strength in adversity and now is no different. Tania is the one Heidi's Hero who is actively battling cancer. If you'd like to know who I fight for and why I work so hard for the American Cancer Society? It's for beautiful women like Tania. She has a new grandson and so much to live for.